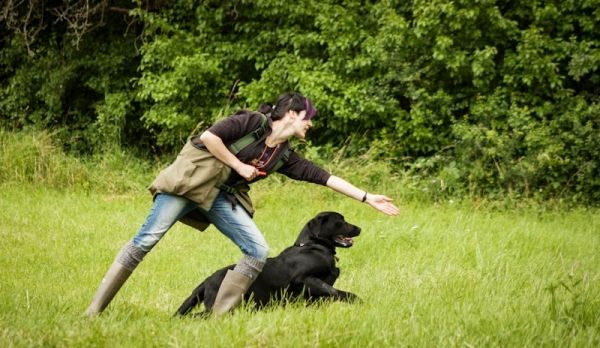 Bei wunderschönem Wetter machten wir uns am Freitag letzter Wocher auf den Weg gen Frankfurt zu den Natural-Diamonds um einen schönen gemeinsamen Vorseminarabend zu verbringen. Vielen Dank für die Gastfreundschaft an dieser Stelle, es ist immer wieder schön bei euch!
Am morgen des 29.06.2013 ging es von Frankfurt weiter nach Großheubach und das in ströhmendem Regen. Dabei sollte doch heut Tigers und mein erstes Dummyseminar stattfinden. KLASSE!
Wir waren sehr aufgeregt ob Tiger den anderen sehr nachsteht oder sich behaupten kann, da wir noch nie einen kompletten Tag gearbeitet hatten, geschweige denn unter Vollbeschuss, in fremdem Gelände mit unbekannten Hunden. All diese Neuerung taten Tigers Drang jedoch keinen Abbruch und wir verbrachten einen sehr lehrreichen, tollen Tag unter der Anleitung von Michael Renner im Revier rund um das Gut Rosshof und haben dabei noch Michelle und Anny-Sue (Present of the Sky Labrador) wieder getroffen.
Ich habe sehr viele Tips für uns mitnehmen können, sowie auch weitere Anhaltspunkte fürs Training gefunden. Generell bin ich sehr zufrieden. Tiger hat fremdes Gelände, Geländerübergänge und Hindernisse sofort angenommen und die Kommandos ausgeführt. Neue Kombinationen in Sachen Pfiffe, Arbeit über alte Fallstellen waren auch kein Problem. Das Vertrauen in meine Hand wächst und wir können VORAN schreiten, im wahrsten Sinne des Wortes.
Es wird sicher nicht unser letztes Seminar dieser Art gewesen sein.
Ein Dankeschön an das Orgateam des Tages und den Trainer, welcher uns sein Wissen, Erfahrung und Revier zur Verfügung gestellt hat.
Wir hoffen für 2014 auch Bewegung nach Sachsen zu bringen!